Hi everyone, sorry that I have not been posting more, the work thing has keep me away form the fun things in life, My new job has been taking a lot out of me,, and right now I am not feeling that I am not doing well at it, had my monthly review and it did not go well,, not going to give up but feel that I am failing badly,,,,,,,,,,,,,,,,
enough about that,, back to the good things, granny squares is done!!!!!!
quilt lable
I like how it turned out. I learned a lot doing this quilt,, I tried 2 new things, a scalloped boarder and I put a quilt label on it. As for my FMQ it is getting better each time I do it, and I am finding it easier too.. here are some pics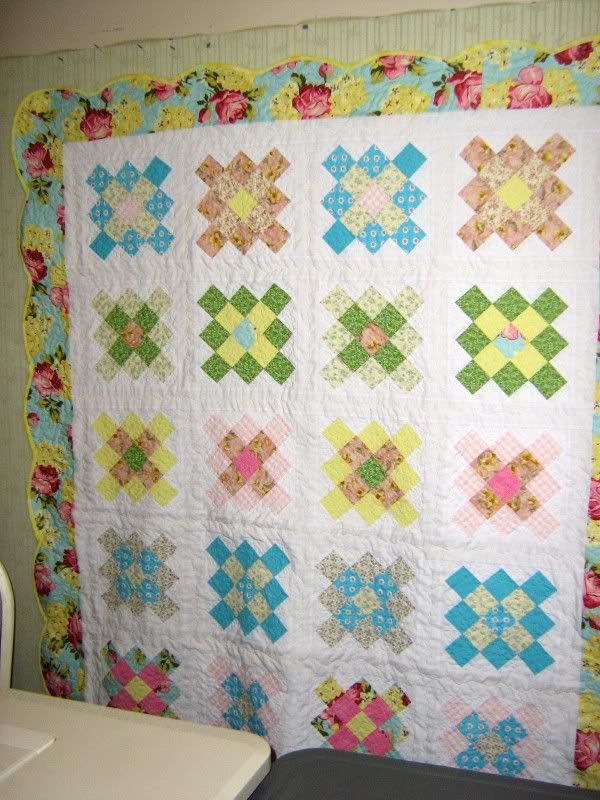 Granny Squares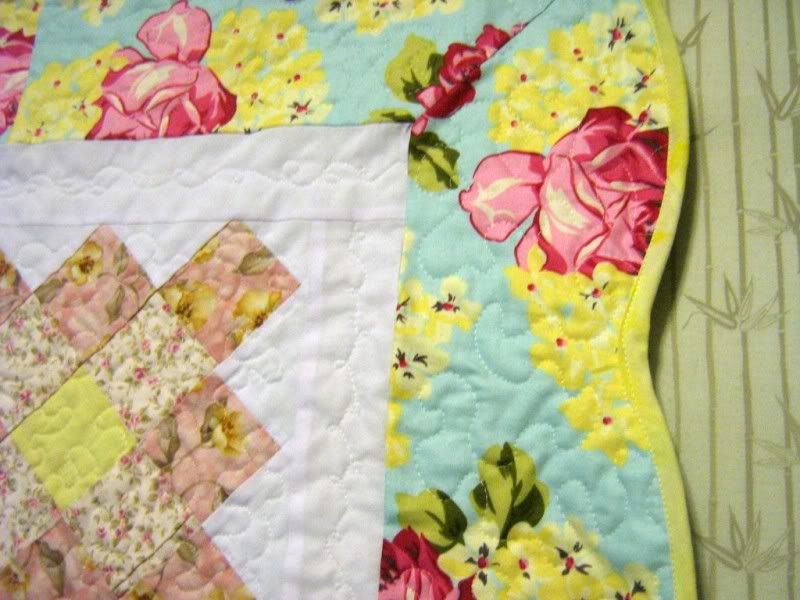 close up of quilting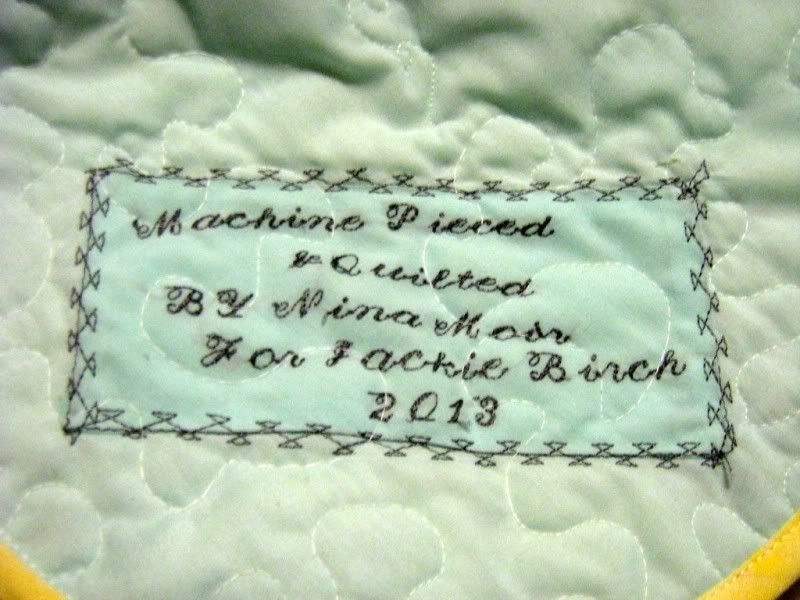 close up of lable
Now all I have to do is give it to the lady that is for,, she has not been in at work, when I have been there, different shifts,, but I hope to see her this week and will let you know if she liked it..
I am done with quilting for a bit, back to sewing clothes for me,, to get back into the swing of it I decided to make a simple top,, or so I thought it would be,,
http://www.simplicity.com/images/PRODUCT/icon/1886.jpg
used stash fabric.. loved the color and print,, polka dots .I had only 1 meter so I had to change how I cut it out, and did not have enough fabric to do the facings for it , so I used some self made bias tape( leftovers from granny quilt)instead,,, first issue solved,, the fabric is light weight and has a crinkle finish but it frays like mad, so to solve second issue, French seams.. also due to lack of yardage I did rolled hems on selves and bottom hem,, so much for a easy project,, sewed it up and decided to try it on,, way to big ,, the neckline was huge so no button loop need sewed up the edge and finished with bias tape , added a couple of buttons to hide the neck line issue and called it done. try on again and still hate it,, oh well it will be used as a at home doing chores no one will see me top here are some pics of top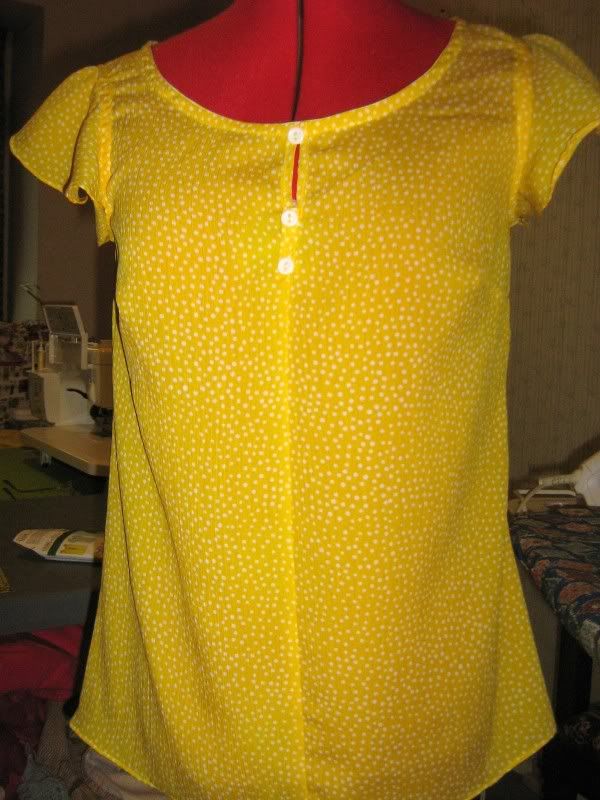 Simplicity 1886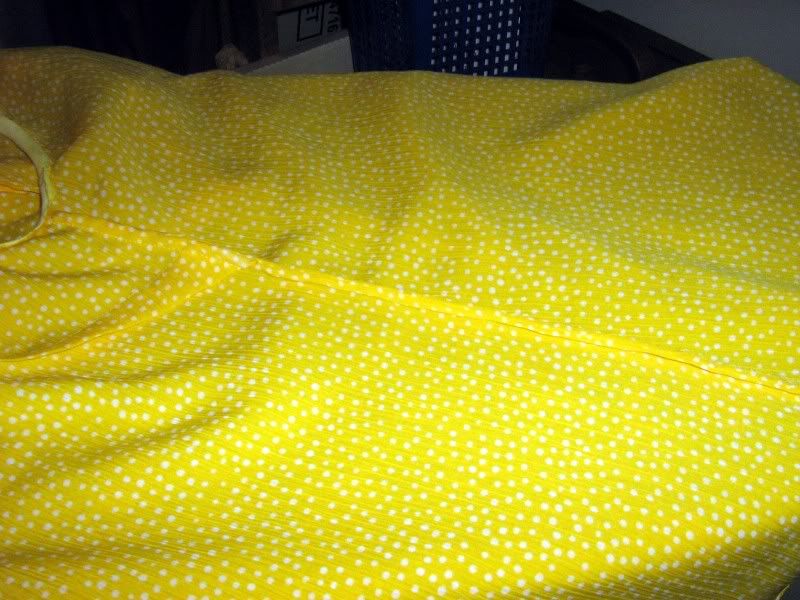 French seam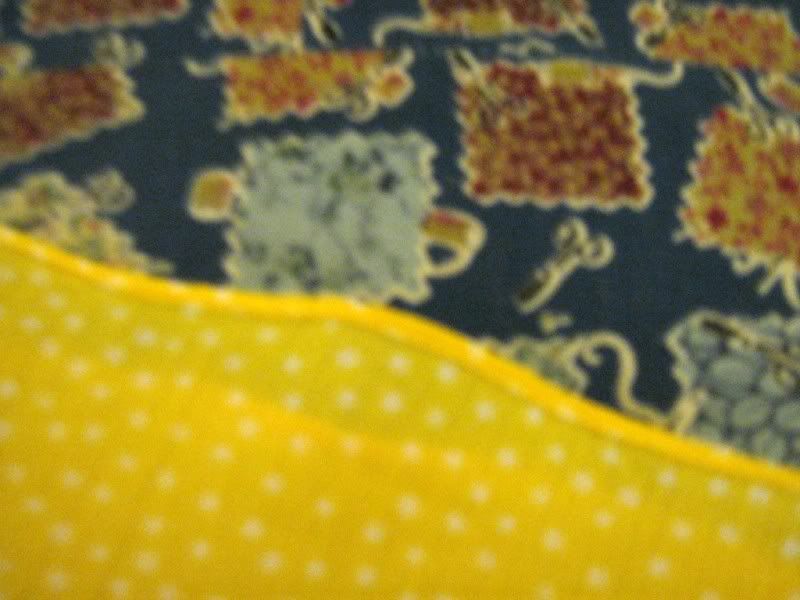 rolled hem
My next project is Simplicity 1699 It has a ton of reviews on PR and I hope it turns out better than Simplicity 1886
Happy sewing to all